5 Reasons Why Phatmats Rock!
Welcome to Phatmats, a unique online shop for personalised fitness mats.
Quit researching online and reading endless reviews. You're about to meet your new fitness mat.
Phatmats are an all-round fitness mat that offers functionality, performance, safety and durability.
The best thing yet…you can add a personal touch to your mat. Afterall, Phatmats stands for

'personal health and training mats'

.
Here are 5 reasons why Phatmats should be a part of your fitness journey…
1. You can personalise your fitness mat
You can express your uniqueness with words, phrases, monograms, colour and font!
Make it meaningful and motivating. A true reflection of you and your fitness goals.
Print your name to let people know it's your mat and avoid losing it or getting it mixed up. 
For the ultimate, on-trend personalisation, monogram your Phatmat with your initials. Simple and classy.  
Furthermore, you needn't pay for an expensive personal trainer to motivate you. You can have a motivating word or phrase of your choice printed on your mat. For example…
Say you're trying to get back in shape for summer. Imagine looking down, mid session, and seeing 'bikini body' on your mat, or 'one more rep!' to help achieve your fitness goals.
Also, you're going hardcore on those abs and your mat reminds you to 'Get Swole!'. Pushing you that extra few minutes to get the most out of your session.
If it's meditation or yoga you desire, you may start to clear your mind when you see 'Imagine. Achieve. Believe' or 'Drop and Give Me Zen'.
Do you know anybody recovering from an injury? A Phatmat with 'One session closer' would be motivating during a rehabilitation journey.
It would make a perfect personalised gift to friends, lovers or family members. Think about it, the most common new year's resolution is  to get fit. So why not buy and personalise a Phatmat to help them on their way?!
In all, you're encouraged to be unique, get creative and define your fitness identity.
Use your words, say what you want and express it how you want.
2. You can choose a mat fit for you
With a Phatmat, you can work out your way!
Yoga, pilates and gym workouts are a few of the many diverse health and fitness pursuits. So, the size of the mat you choose depends on:
The type of activity you intend to practice

Your joint and muscle health
You can use Phatmats in all yoga practices, Pilates and a variety of exercise activities. Including HIIT,strength training and stretching – as part of your warm up and cool down.
Additionally, you may use them indoors, outdoors, for travel, in the studio or the gym. You can even set up your own convenient, versatile and safe work-out space in your own home.
Every Phatmat is 183cm long and 61cm wide. But, you can choose from different thicknesses to suit your needs:
PHAT (4mm/0.8Kg)
A thin mat which brings you closer to your training surface for functionality and balance. It's lightweight and travels with you anywhere. From your studio or gym bag, around the world to your next hiking or camping adventure.
PHATTER (6mm/1.0Kg)
For ideal protection and functionality, this size will cover most of your needs. Also, with added comfort and support, use this mat on most surfaces.
PHATTEST (10mm/1.2 Kg)
 Designed for those seeking more support. It has a dense cushion which provides protection for your joints and muscles. It also promotes full relaxation.
Go ahead, choose a Phatmat that's fit for purpose and fit for you.
3. You can choose from 7 vibrant colours
Colours evoke certain feelings and emotions. Moreover, they can mean different things to different people.
Phatmats enable you to choose a colour that motivates you. Selecting a colour that appeals most to you. It's a great way express your individual style during your workout.
With a wide variety of colours, there will be one to match your fitness style and bring out your best. Also, it would make group fitness fun!
Here are what colours generally convey: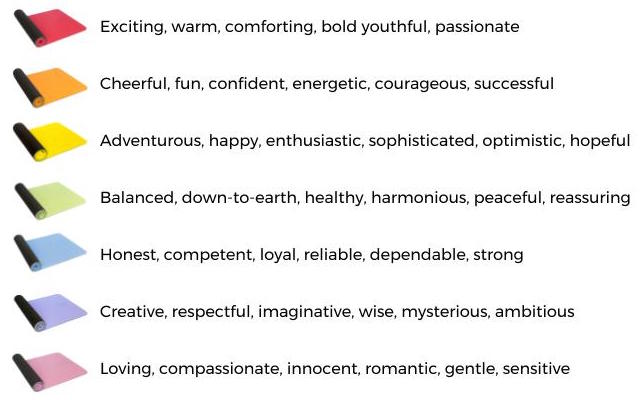 Choose a colour that wins you over, or one that represents your ideal workout. It'll brighten you up and spur you on.
4. Phatmats offer functionality and durability
Phatmats dense, dual-layer TPE foam and close-cell technology offer significant benefits. (
TPE means Thermoplastic Elastomer – an
eco-friendly
and biodegradable material
.)
First of all, Phatmats' extraordinary dense cushion provides superior comfort and support.
This means it will absorb impact and cushion your joints and muscles while you exercise. It also improves alignment and promotes stability and balance.
With your safety in mind, Phatmats have a dual-layer.
A unique rippled underlay which maintains optimal grip with its training surface.
A subtle grip textured top layer offering you a stable, anti-slip surface.
As a result, you don't have to worry about sliding, slipping or falling.
TPE closed cell technology renders remarkable density. It repels moisture, resists odours and fights off bacteria.
By wicking away moisture and sweat, your Phatmat will remain dry and maintain its grip. But, for best anti-slip performance, it's best practice to pair with a towel.
Defeat bacteria, germs, mold and bad odour too. Because cleaning your Phatmat is super easy with it's closed cell structure.
Just
wipe 'n' go!
It's impermeable construction means these nasties are not trapped in the mat. Thus, making Phatmats more resistant to wear, durable, hygienic and hypoallergenic.
Finally, because of it's elastic qualities, Phatmats roll out with ease. Yet, they remain firm, strong and true to form while you workout.
After practice,
effortlessly
roll up and stored it. You could keep your original packaging to keep it free from dirt and dust.
5. Phatmats are
eco-friendly
and biodegradable
Every Phatmat helps preserve planet Earth, whilst also being completely safe for you.
They are biodegradable and recyclable. With it's TPE closed cell construction, Phatmats decompose
organically
. Which means you can play your role in protecting the environment.
Finally, Phatmats have your wellbeing in mind. Tested and certified against 169 harmful chemicals to keep you safe and sound. Including PVC, BPA, latex, rubber, cadmium and lead.
Non-toxic and containing no any hidden nasties or known allergens, you can work out with peace of mind.
So there you have it! 5 in depth reasons why Phatmats rock. Visit our shop and browse around.
When you are comfortable, pick a mat fit for you, choose your ideal colour, t
hen keep on-trend and add a personal touch, or simply keep it plain.