A Guide To Your Personalised Phatmat
Personalised Phatmat
With a Personalised Phatmat, it is possible to express your uniqueness with words, phrases, monograms, colour and font.
Use this guide as a tutorial on how to add a personal touch to your Phatmat, whether it's used as a yoga mat, pilates mat or fitness mat for the gym or home.
1. Enter Phatmats Website Shop
Select Personalised Phatmat from the
Shop
to bring up the personalisation canvas.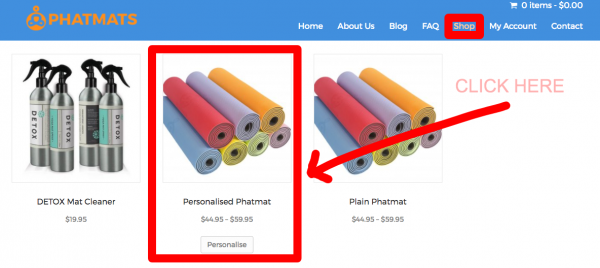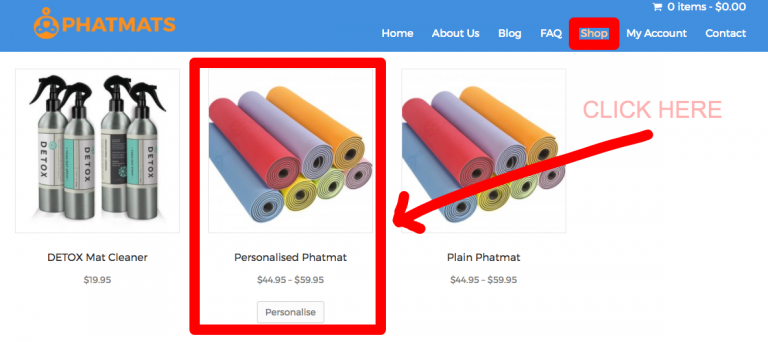 Here you will find a blank Phatmat and navigation buttons to add your personal touch.
The navigation buttons highlighted below are to assist you with your personalisation.
SAVE/LOAD              Save and load your work in progress to return to it at a later time
PRINT                           Print your Personalised Phatmat to show off and anticipate its arrival
DOWNLOAD             Save a copy to your computer or hard drive
MAGNIFY GLASS    Click and hover over your Phatmat to inspect
ZOOM                           Click and slide to zoom in
PREVIEW                   Preview your Personalised Phatmat with no distractions
RESET                          Click to reset and start again (an acknowledge pop-up will appear)
UNDO                           Removes last edit
REDO                            Applies previous edit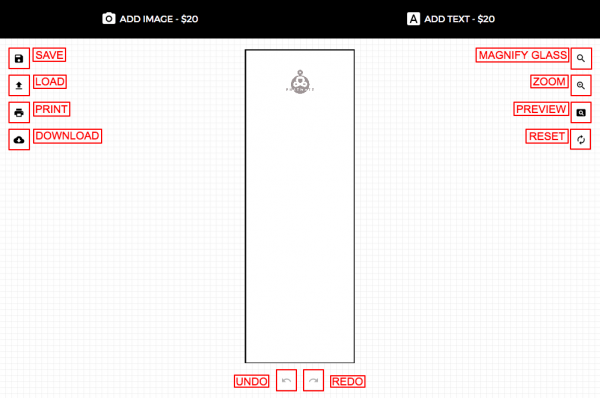 First, select the size and colour of your Phatmat from the drop down menu below the canvas. This will bring up a description and price of a Plain Phatmat.

These selections are used at checkout and what Phatmats use to fulfil your order. (Not the colour you select on your canvas).
2. Select a Phatmat Colour
First, click on the blank Phatmat to bring up a colour selection panel at the top left of the canvas. Then c
lick the red square and choose your preferred colour to fill the blank Phatmat.
Remember, choosing this colour is only used as a visual aid for your mat personalisation. The actual colour to place your order is from the dropdown menu below the canvas.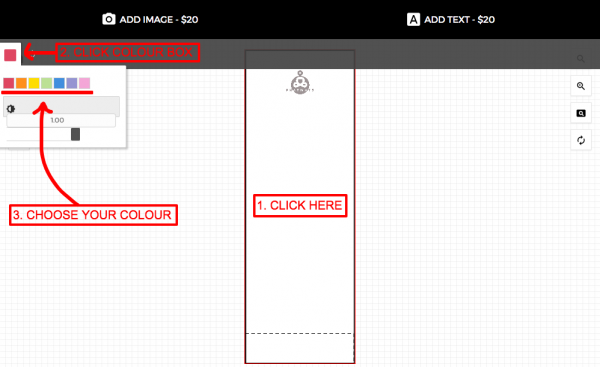 3. 

Add Image/Logo or Text
You can add an image, logo or text, which
is limited
to the lower section of your Phatmat by a bounding box. 
It costs $20 to add text or an image, or both, which accumulatively adds to the price of a Plain Phatmat.
Click 'add image' or 'add text' to open the side panel to select your image or logo, or add in your text. This will populate the Phatmat, limited to the bounding box at the lower section of the mat.
ADD IMAGE
The preferred format for uploaded images is PNG – Portable Networks Graphic. This allows for transparency as shown in the logo below.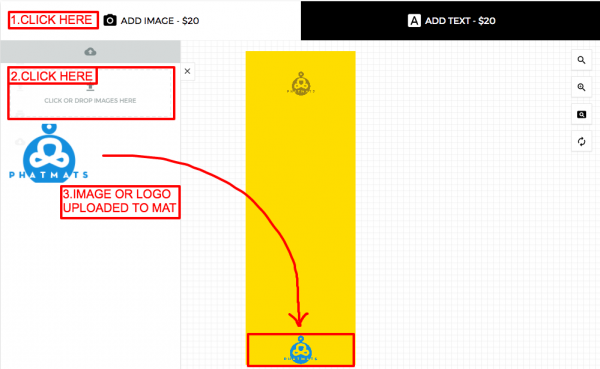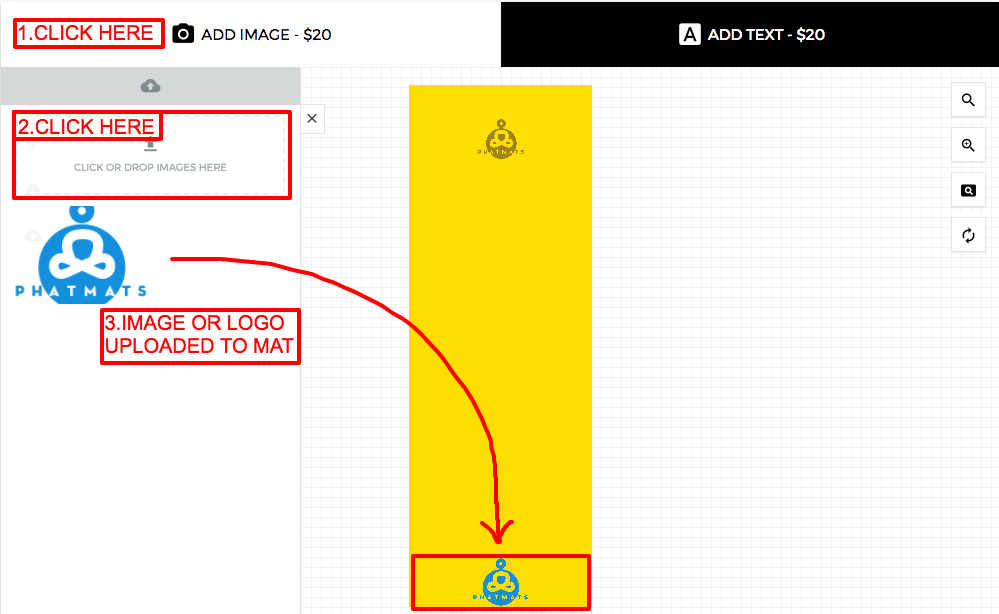 ADD TEXT
For ultimate personalisation, you can add your name, a motivating phrase or what ever words you want.
You're encouraged to get creative and be unique, it's your fitness mat after all!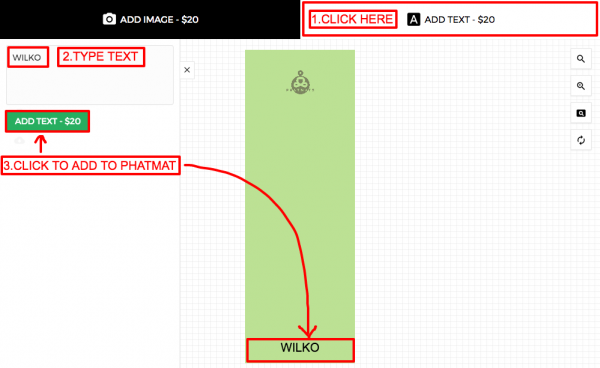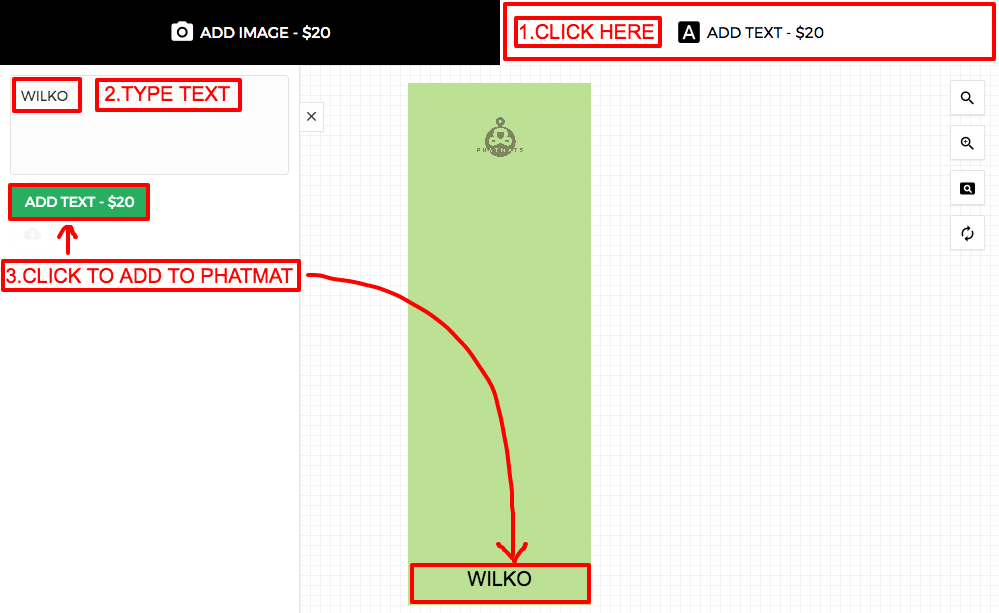 You can resize and move the  image around within the bounding box by clicking on the image or text. A box will appear wrapping the text or image, there will be 4 icons in the corners. 
A multi directional arrow will appear when you hover over the text, click and hold down to move around. If it moves outside the bounding box, it will be highlighted red.
Whether you want your text on an angle or upside down, to the left, center or right, to fit as much possible in the bounding box or a small text, this is a simple way to move, rotate and resize your text.
There are other ways to do it as you described below.
4. Edit Image/Logo or Text
Clicking the image or text also brings up an editing panel at the top of the canvas.
The editing panel allows you to rotate, reposition and reset for images.
For text you have more options, including editing your text, changing the font colour, type and size with bold, italics and underline.
You may also add curved text effect if desired.
EDIT YOUR TEXT
Click the T icon to change your text. You can delete or edit what you have previously entered. What you retype will be replicated on the Phatmat.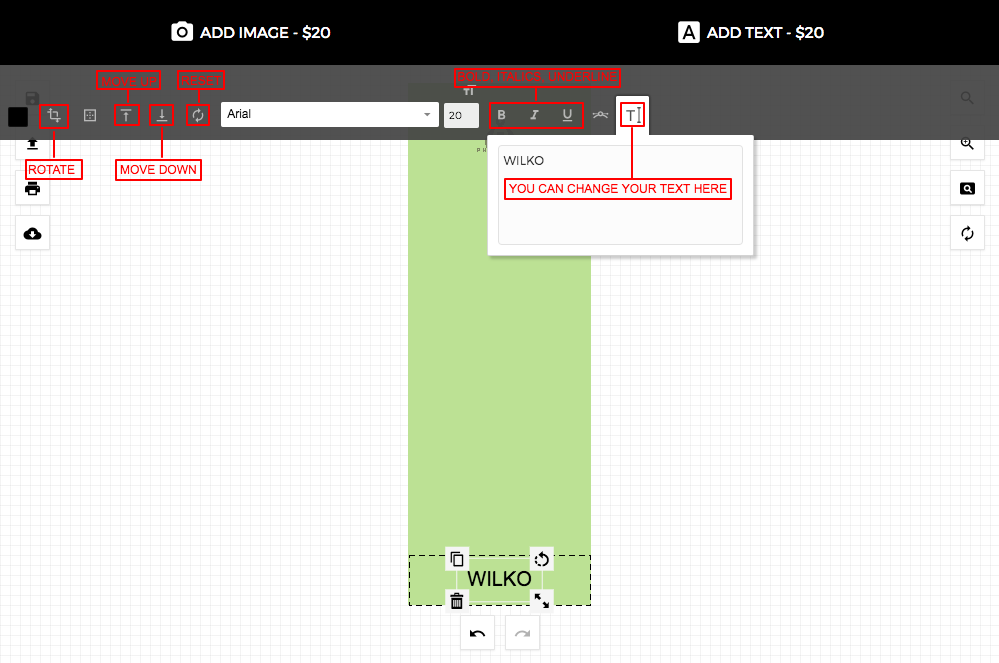 CHANGE THE COLOUR OF YOUR TEXT
The colour of your text defaults to black (HEX colour #000000). However, by clicking the colour box in the edit panel, you can change the colour of the text.
Choose which colour you'd like from the colour selector bar to the right, then refine the colour in the box to the left.
The colour you select will be shown and the HEX colour code will appear. Alternatively, if you know your which particular HEX colour you want, enter it in the box and press enter.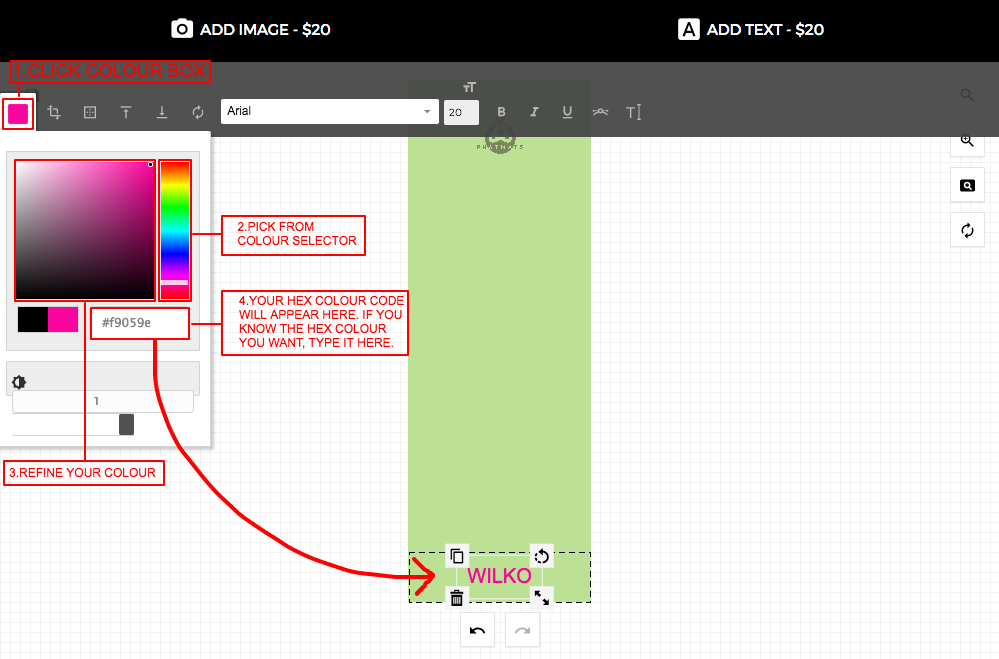 POSITION YOUR TEXT
An alternative method to position the text to that described above, is to click the position box in the editing panel.
In this drop-down you will see various icons to position the text with in the bounding box, as shown below.

 CHANGE FONT TYPE AND SIZE
Apart from the text, choosing a font type would have to be the most exciting part of personalising your Phatmat. With 70 fonts to choose from, you're encouraged explore and find a style that suits you.
The default font is Arial. You can change it by clicking the font drop down menu and scrolling through until you find what you like.
You can change the font size  adjacent to font type by typing or toggling until you find a size you're happy with, whilst ensuring it remains inside the bounding box.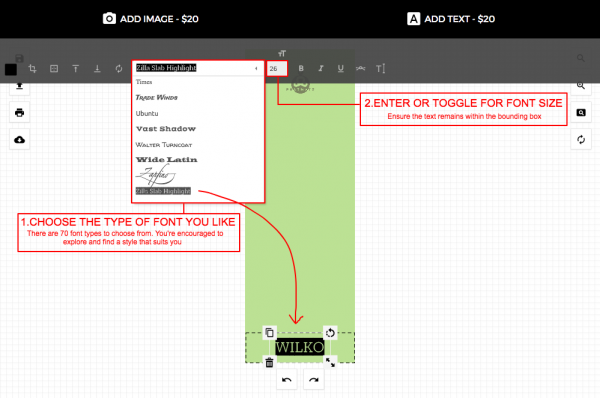 CURVED TEXT
Adding curve to your text is another excellent way to personalise your Phatmat.
You can achieve this by clicking the curved text box in the editing panel. Inside the drop-down, ensure you activate the switch for curved text, it will go green when switched.
Click it again to deactivate the switch and remove curved text effect.
Also, in the drop-down, you can adjust the curve radius and letter spacing, it defaults to 80 and 10 respectively.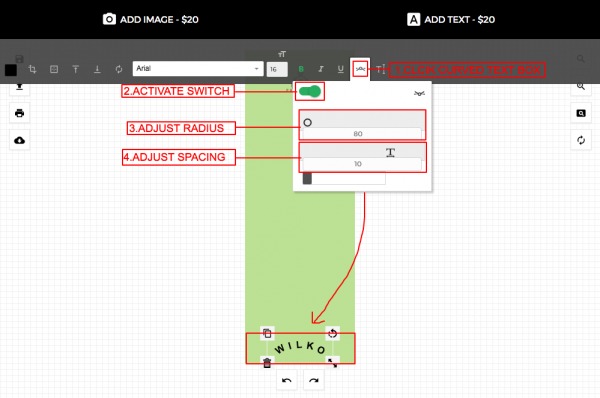 ADDING A MONOGRAM
Phatmats is currently working on this feature for you, but the good news is, you can still add a monogram!
There are many online monogram makers you can use to create a monogram of your initials.
Monogram Maker, for example, is simple to use and lets you save as PNG. Then you can simply add it to your Phatmat as an image.
Here are some mock examples, taking only minutes to generate and add to a Personalised Phatmat.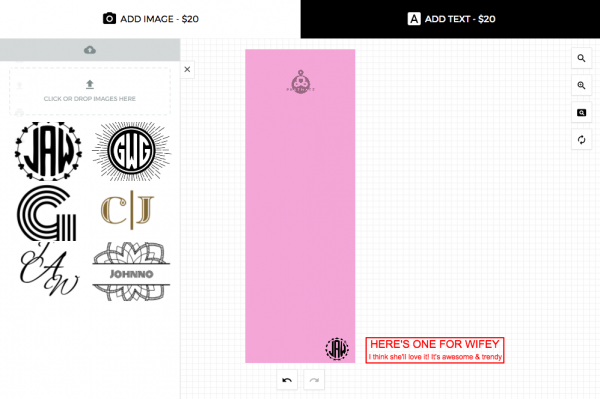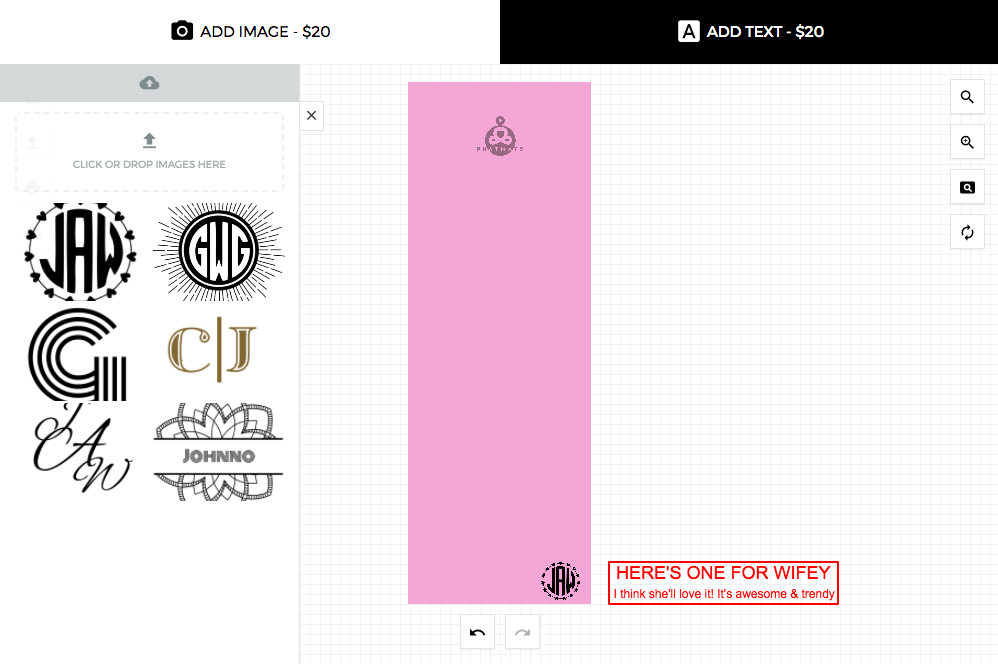 5. Place your order
When you are happy with your selections you can 'add to cart'. You may want to also want to design and purchase a Personalised Phatmat as a gift for your parnter, family or friend.
If your personalisation is not contained with in the bounding box when you 'add to cart', a pop-up will appear to encourage you to do so.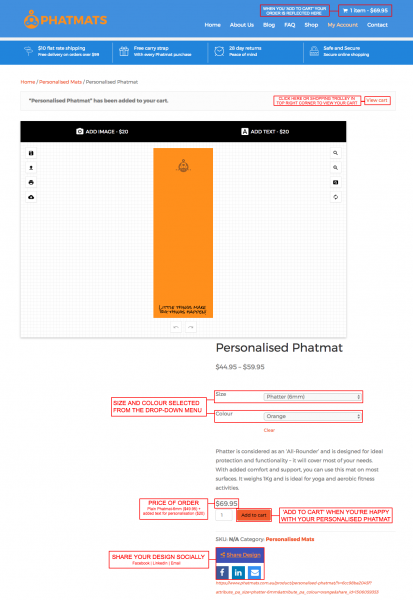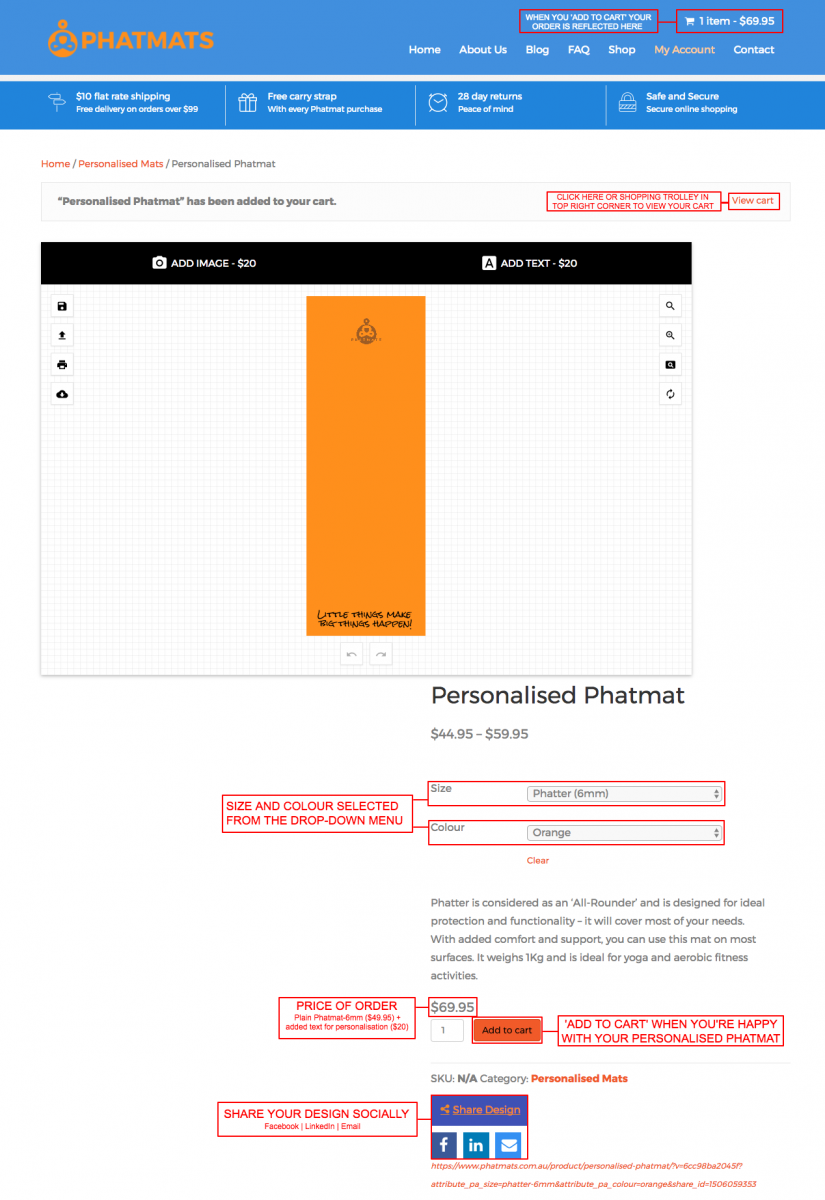 If you are happy with the items in your cart, proceed to checkout.
Here you can pay for your order and enter your delivery details. Phatmats offer a $10 flat-rate delivery fee, or free shipping for orders over $99.
Your order is then fulfilled and delivered to you as soon as possible.